Rebrand & Web Design Specialist
Confidence & Connection
By Design
With Fat Dog Creatives
For entrepreneurs with proof of concept ready to step up their game.
How can we get you from where you are to where you want to be?
Gap Digital Courses: Branding
A LIVE DIGITAL COURSE FOR COLLEGE STUDENTS, RECENT GRADS, OR THOSE ENTERING THE DESIGN INDUSTRY:
You will be both the client and the designer experience the branding and creative process to develop and design your own brand.
"I don't know what to do."
---
I'm tired of looking and feeling like an amateur.
I'm struggling to raise my prices.
I'm not getting the right kind of clients.
I'm embarrassed by my branding and website.
I don't know how to attract clients online.
I losing business to my competitors.
I'm not getting referrals.
Meet Bridget Willard
She's a pro at social media. But, sending potential clients to her site meant making apologies or excuses for its design. She felt her site didn't reflect her expertise.
After a thorough review of her site, brand, and goals, we didn't just change the design of the visuals, we reorganized, categorized, and contextualized everything in a fun, clear way!
Now, Bridget is proud of her site, and it shows in everything she does.
Her site wasn't the only transformation.
If you're ready to mark
your spot in your category,
I'm ready to show you how!
I want you to have all the power you can get to propel you forward!
---
Virtual Real Estate
Build Your Real Estate on the Web
Give your business a new approach that makes your dreams a reality.
Getting to that next level in your business means making real changes.
Bradley Scott Commercial Real Estate
It's not about the business; it's about who the business serves: the customer.
Keeping Dreams in the Clouds

Is not living
---
My dream has been to grow a business working with the types of businesses I enjoy most, those owned by goal-oriented, growth-focused, life-long learners, and help them make their business dreams a reality. My work and continued studies have focused on implanting concepts into memory for businesses to be associated with the values and services they provide.
I started 2021 as a guest on the Smart Marketing Show podcast. I always enjoy talking with them and their enthusiasm. Show Summary You have a business and a logo. Awesome. You…
Continue Reading
In spite of the insanity that is 2020, the introspection that's resulted from such significant changes, division, alone time, loneliness, disconnections, virtual life, etc. has shown me what I value most and…
Continue Reading
How many times have I failed? What do I count as a failure? If I learn from an experience, is it still a failure? One of the most memorable messages I heard…
Continue Reading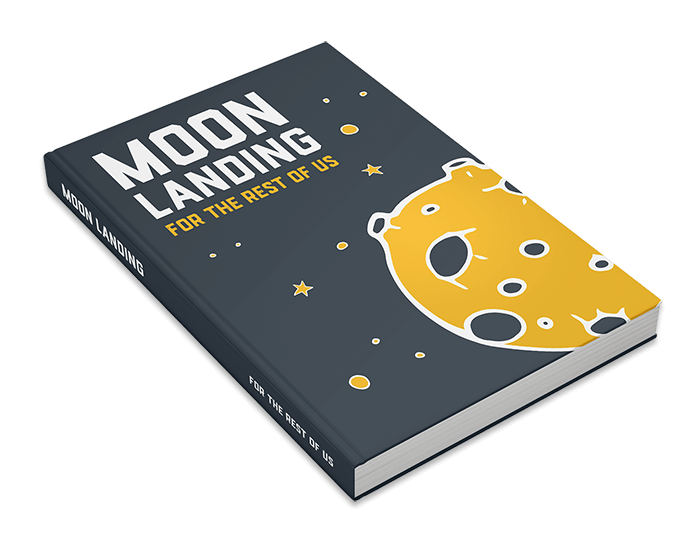 "Let me just say that I have read several e-books about this subject and none of these lead to success. Moon landing for the rest of us is a totally different beast. The guides are so easy to follow and it only took me two weeks to get where I am today. I am now looking forward to the sequel, I simply can't wait to read it."
Blueprints
Professionel rocket building blueprints. Tired of bad drawings when building complex things? Well, our blueprints are easy to follow and you will be impressed by the finished result.
Rocket Fuel
Build a powerful and long lasting rocket fuel using only ingredients from your local supermarket. Cheap and fairly stable.
Moon Map
Getting around the moon the first couple of days can be tricky. You will get a detailed map of all the key craters on the moon with the purchase of your e-book.
The Iconic Flag
No moon landing would be a real moon landing without the iconic "I was here" flag. Although big when unpacked, the initial size is only 4 x 4 inches.
Communication
On your personal moon map, we have marked a good spot where most smartphones can obtain a good signal. Ask your service provider if in doubt.
Diploma
A luxury printed diploma can be yours if you manage to get back home again from your little journey. The diploma can be delivered in a luxury wooden frame at a small extra cost.